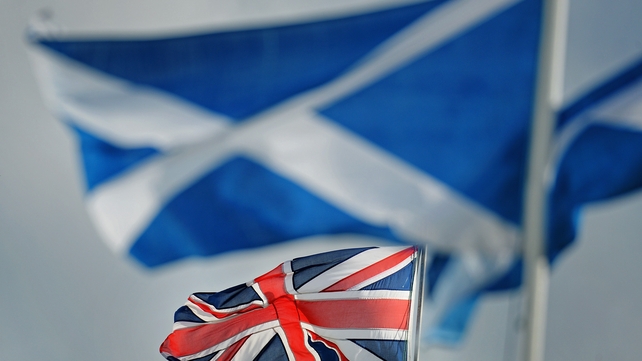 Scotland's two biggest banks have said they would relocate to England if Scots vote for independence next week.
The comments added to the economic uncertainties Scotland faces if it decides to end its 307-year union with the rest of the UK.
The diminished presence of Royal Bank of Scotland and Lloyds Banking Group, along with other leading financial groups which have also said they might relocate some operations on a "yes" vote, could be a significant loss given the sector's importance in the Scottish economy.
RBS, based in Scotland since 1727 and with employees 11,500 staff there, said today it had taken the decision because a vote for independence would create uncertainties which could impact its ability to borrow.
"RBS believes that it would be necessary to re-domicile the bank's holding company and its primary rated operating entity (The Royal Bank of Scotland plc) to England," it said in a statement.
The bank, 81%-owned by the British government and the owner of Ulster Bank here, said the decision was part of contingency planning ahead of the vote which was responsible and prudent.
It said the plan was what its customers, staff and shareholders would expect it to do.
RBS said, however, it intended to retain a significant level of its operations and employment in Scotland to support its customers there and the activities of the whole bank.
Lloyds, 25%-owned by the UK government, said last night its contingency plans for Scottish independence included setting up "new principle legal entities in England", confirming what banking industry sources told Reuters last week.
Both banks had previously warned that Scottish independence would present a significant risk to their businesses, affecting their funding, tax and compliance costs.
Lloyds, which employs 16,000 staff in Scotland, said it had responded to an increased level of enquiries from customers wanting to know about its plans following next Thursday's vote.
"While the scale of potential change is currently unclear, we have contingency plans in place which include the establishment of new principal legal entities in England," it said in a statement.
Ratings agency Standard & Poor's has warned an independent Scotland would be unable to credibly support its banks if a new financial crisis struck.
The country's three banks, also including National Australia Bank's Clydesdale, have assets worth nearly 12 and a half times the size of its economic output.
RBS and Lloyds were bailed out by the British government at a combined cost of £66 billion during the 2008 financial crisis.
The banks will have a period of at least 18 months after the vote to take whatever action they deem necessary while negotiations take place over the terms of Scotland's exit from the UK.
They had previously been reluctant to be drawn into the highly charged debate over Scottish independence for fear of alienating customers, but their statements reflects the increased chances that supporters for independence could win the vote with polls showing the contest is too close to call.
Other leading financial groups have also said they would react to a "yes" verdict. Insurer Standard Life reiterated yesterday that it could transfer business to England if necessary after the vote.
British Prime Minister David Cameron yesterday begged Scots not to rip apart the UK's "family of nations" and vote "no" in the poll.