Monday 01 September 2014 09.17 by RTE News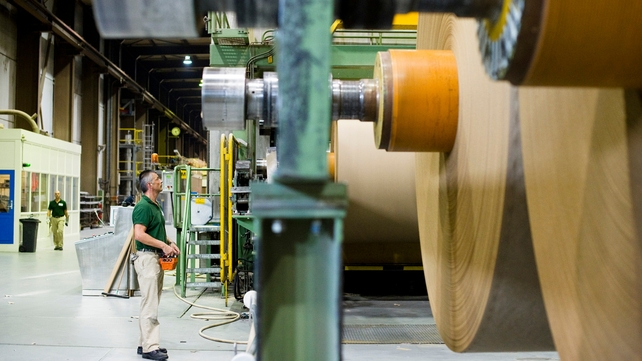 Euro zone manufacturing growth slowed slightly more than initially thought last month as new orders dwindled and factories suffered amid rising tensions in Ukraine, a business survey showed today.
Factories barely increased prices last month, and manufacturing activity in France fell at the fastest pace in 15 months.
Markit's final August manufacturing Purchasing Managers' Index came in at 50.7, the lowest in over a year and below both July's 51.8 and an earlier flash estimate of 50.8.
But August still marked the 14th month in a row the index has been above the 50 line that separates growth from contraction.
An index measuring output, which feeds into a composite PMI due on Wednesday that is seen as a good guide to growth, sank to a 14-month low of 51 from July's 52.7 but was just ahead of the flash 50.9.
Although some growth is better than no growth at all, the braking effect of rising economic and geopolitical uncertainties on manufacturers is becoming more visible," said Rob Dobson, senior economist at Markit.
Tensions between Russia and Ukraine have escalated and threaten to damage the region's already fragile recovery.
The factory PMI for Germany, Russia's biggest trade partner in the European Union, fell to an 11-month low of 51.4. In the bloc's second-largest economy of France the PMI fell to 46.9.
"France remains a real concern, as does Italy's descent from solid expansion to stagnation. Signs that growth impetus waned in the key industrial engine of Germany, and in Spain and the Netherlands too, is also less than reassuring," Dobson said.
"The slowdown in industry is likely to add further fuel to the fire for analysts expecting additional monetary or fiscal stimulus to be implemented," he added.
The ECB will probably launch a quantitative easing programme by March in a bid to prevent deflation and jumpstart economic growth in the region, but it is not expected to change policy on Thursday, a Reuters poll found last week.
Prices rose just 0.3% last month, the smallest increase since October 2009, and the output price index in the PMI survey was only just above the break-even mark at 50.3. That was above July's 50.1 but below a flash reading of 50.4.